Gloomy Sunday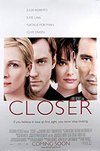 Closer

Tai Guk Gi

Kill Bill Vol. 2

Hero
10. GLOOMY SUNDAY (EIN LIED VON LIEBE UND TOD) (1999, Rolf Schübel)
Like the infamous1933 titular "suicide song" (I remember, as a child, listening to my parents' 78 rpm recording of this piece!), this 1999 German film has developed a rather bizarre cult. It wasn't released in the U.S. until November 2003, and it played at one of my neighborhood independent movie houses for more than six months during 2004, continuing to bring in new viewers by word of mouth. A Holocaust-era melodrama set in Budapest and centering on the romantic entanglements of a restaurant owner, a songwriter, and the woman they both love, the film's plot is by no means original. But, somehow, the filmmakers and an exceptional cast have managed to create a transcendingly haunting film.

9. BRIGHT YOUNG THINGS (Stephen Fry)
Fry's witty screenplay of Evelyn Waugh's novel Vile Bodies produced a sparkling little gem of a film, which was mostly overlooked by filmgoers. Too bad for them! A look into the lives of a young novelist, his would-be lover, and a host of young people who beautified London in the 1930s is both tender and satiric in its treatment of characters self-obsessively unaware of the turmoil that's about to flatten their world.

8. CLOSER (Mike Nichols)
Probably the only film not directed by Wong Kar-wai whose characters I found as compelling as they were self-destructive. Even Julia Roberts was less annoying than usual (it helped that she didn't once laugh ...). Brittle, brutal, and brilliant.

7. FINDING NEVERLAND (Marc Forster)
Yet another validation of Johnny Depp's versatility as an actor. I really liked the way developing scenes from the Peter Pan play were interspersed into the playful relationship that develops as J.M. Barrie befriends widow Sylvia Llewelyn Davies and her young sons. Freddie Highmore's performance as Peter Davies, who has lost his own childhood while trying to be the "man" of his bereaved family, is particularly touching.

6. TAE GUK GI (THE BROTHERHOOD OF WAR) (Kang Je-gyu)
One of the best (and certainly the best non-hallucinatory-allegorical) war movies I've seen, period.

5. SHAUN OF THE DEAD (Edgar Wright)
Best romantic zombie comedy ever. (Maybe the only romantic zombie comedy ever, unless you include Battlefield Baseball's touching family reunion scene.... )

4. KILL BILL, VOLUME 2 (Quentin Tarantino)
The closing half of Tarantino's homage to vengeance cinema changes tone but surpasses Volume 1 in the quality of its screenwriting (even with a happy ending foreign to most of the genre) and performances. Uma Thurman has never been as good, and David Carradine is a revelation.

3. THE AVIATOR (Martin Scorsese)
Scorsese's glorious portrait of Golden Age Hollywood (loved Cate Blanchett's turn as that legendary other Kate!) almost tops the biographical aspects of the film, but the depiction of Howard Hughes's genius in conflict with his phobias is given enough weight due to Leonardo DiCaprio's solid performance.

2. HERO (2002, Zhang Yimou)
The film itself is drop-dead gorgeous (thank you again, Christopher Doyle!), the actors are Asian icons, the director a legend. Zhang's first foray into the period martial arts romance genre is a masterpiece of visual images, which overshadow and possibly overwhelm the story's exploration of the themes of honor and loyalty.

1. TWILIGHT SAMURAI (2002, Yoji Yamada)
Best film of the year. Japan's entry for last year's Foreign Language Oscar got its U.S. theatrical release in the spring of '04. A quietly affecting look at the conflicting obligations of a struggling single father who just happens to be pretty good with a sword.

Bright Young Things
Finding Neverland

Shaun of the Dead
The Aviator

Twilight Samurai