Better Luck Tomorrow

So Close

Peter Pan

Whale Rider

The Station Agent
10. BETTER LUCK TOMORROW
Director Justin Lin's first feature that, although it has some flaws, excels at presenting a picture of young Asian Americans that avoids condescension and stereotype.

9. SEABISCUIT
My favorite Hollywood summer action flick (which doesn't say much for the 2003 crop of popcorn effects extravaganzas). Superb casting, spot-on art design, and excellent cinematography are the strengths of what is basically a simple story — we all know the ending but still care about these characters and their journey.

8. SO CLOSE
I want to be a deadly chick assassin with great clothes when I grow up. Director Corey Yuen's "babes and bullets" offering was a perfect midnight movie at the San Francisco International Film Festival, which was followed by a commercial run in SF in the fall. The plot is completely ludicrous but the action scenes were well done, with good acting from all three leads (Shu Qi, Karen Mok and Zhao Wei).

7. JSA (JOINT SECURITY AREA)
An astoundingly good film. What begins as a cold war procedural investigation subtly shifts to a wrenching character-driven plot that skillfully combines humor and tragedy. ("On Fire: Recent Films from Korea" at Yerba Buena Center, SF, May 2003)

6. PETER PAN
I loved this new live-action version of J.M. Barrie's classic, which is closer to the book and play than earlier film renditions. The actor playing Peter (a difficult role combining innocence with bloodthirsty amorality) is perfect, and the cinematography and sets are lovely. I was delighted to read that Bruce Spence (who is best known from The Road Warrior, plays a pirate here, and voices a seagull in Finding Nemo) was one of the most highly paid actors of 2003.

5. KILL BILL, VOLUME 1
The innovative structure and cinematography, fabulous score, frequent touches of humor (not all of it black), and Uma Thurman's performance put this up at the top of the year's viewing pleasures. Say what you will about derivative elements, the sheer exuberance of Quentin Tarantino's evident love for cult film wins the audience over.

4. WHALE RIDER
A rich coming of age story incorporating Maori myth and traditions, which is touching without being emotionally manipulative.

3. INFERNAL AFFAIRS
An all-round excellent cast compliments a very smart, tight script , great production values and a noir edginess surpassing most recent HK cop/triad confrontation films. (SFIFF, April 2003)

2. THE STATION AGENT
A simple story about three lonely people, but the performances, pace and humor make this first feature by director Tom McCarthy an outstanding piece of cinema.

1. MASTER AND COMMANDER: THE FAR SIDE OF THE WORLD
Peter Weir's return to form transcends the "epic sea adventure" genre with a thoughtful drama featuring full characterizations as well as action. The music and cinematography are exquisite, and the performances, across the board, are terrific.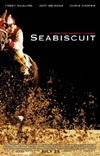 Seabiscuit

JSA

Kill Bill Vol. 1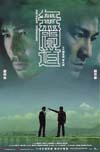 Infernal Affairs

Master and Commander