Happy Holidays!
(2008-2009 edition)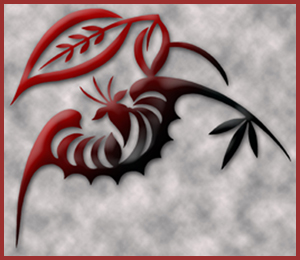 There's no rule about holiday letters, so I've determined to get mine out early this year and celebrate the entire harvest/holiday season. In the U.S., bats symbolize dodgy stuff, being connected to Hallowe'en and vampires (which, OK, incur mixed emotions these days). But in Chinese culture the bat is a symbol of good luck: the character for bat — fú — sounds like the character for fortune — also fú.
Once again it's been an eventful year; there is just not enough time to do everything on my lists. I decided not to travel over Thanksgiving or Christmas/New Year, opting for quiet, warm, and dry holidays at home. In fact, travel for me has been less this year, and only domestic. I rented a Prius (cool car, once you figure out how to start it!) to make the annual pilgrimage to LA for my brother Kevin's birthday and the FIDM costume exhibit. In August, I made a trip to the East Coast, combining a family visit with a road trip to Mythcon with my longtime friend Jeanne (I think she enjoyed what was her first Mythcon, too). The annual conference was in Connecticut, first time in the Northeast (north of Washington DC). Venue was on the awful side, leading to lots of fodder for the "Drunken Hobbit" closing song, but the con itself was great fun and included some terrific programming. I also got to go kayaking on the South Branch of the Raritan River, with my brother Rocky and Flemington friend & neighbor Nancy, which was delightful (even though I did dump my kayak once).

My poor passport is getting dusty although I'm hoping to go back to China next summer if the CCSF study abroad program works out. I'm still taking Mandarin classes, getting a bit more proficient although really still a beginner. But hey! After years of resistance, I have finally started a blog, and chose to put it up on Sina (the largest Chinese-language infotainment web portal). Take that, Wordpress! But make sure your browser coding is set to "intergalactic" if you want to take a look: blog.sina.com.cn/bluemoonsf )
CostumeCon 26, the 2008 edition of the annual gathering of very creative costume-wearing and -making folks, took place in the Bay Area in April—returning after 14 years—and our Very Evil Organizers Kevin and Andy sweet-talked me (I think mojitos were involved) into co-directing the Historical Masquerade competition with fellow coercee Shelley Monson. I think it was quite successful, and also gave me a most excellent excuse for not making any new costumes for the weekend (as if I could even find my sewing machines...).

Other 2008 projects included three book designs: an English translation of Alec Su's very thoughtfully written high school memoir (which I got to present to him personally in February, during a post-concert fan meet in Reno—I think he was both surprised and pleased), a short biography of Mother Helen Costello, a local nun renowned for her work with terminal cancer patients, and a monograph on Bay Area attorney Albert Horn. (These last two were written by local historians Michael & Shirley Svanevik, with whom I've collaborated on several projects.) I love doing books! Sometimes I even get paid!

Mostly not, though. I managed to liberate myself from the Mythopoeic Society board of directors (not complaining about working with this terrific group of people for the past decade, just got a tad burned out), and then took on administration of the Alec Su International Fans forum. Although it eats up a lot of my time, coordinating ASIF has generally been a pleasure, as I continue to make new friends all around the world. And happily, representing the U.S.A. in this global community should become a bit easier with recent, um, political changes. Here's our web site, in case you are curious: www.alecsuinternationalfans.com

I've now been working pretty much full-time at Windward Graphics for two years: love the job, hate the commute. I do not want to move to Fremont and am too, ah, experienced to find a job in the city amongst all the youthful unemployed techies currently rampaging the streets. So, don't ask.
End of page. (Whew!) Very warm wishes for the coming year, and may 2009 bring you new adventures, good health, inspiration, success, peace and happiness!


---
ElectroEphemera Index