Couching Tigers, Beading Dragons
FIDM 9th Annual Art of Motion Picture Costume Design Exhibit

by Eleanor M. Farrell



Once again, the Fashion Institute of Design and Merchandising (FIDM) has put on an opulent display of film costumes in its 9th Annual Art of Motion Picture Costume Design exhibit. Pieces from a dozen films released in 2000, including all five of the Oscar-nominated costume entries, can be viewed -- for free! -- by the public on FIDM's downtown Los Angeles campus.

This year's Oscar honorees encompass a broad range of designs, both historical and fantastic, but what is most intriguing on viewing these pieces is that the boundaries begin to blur. Historical influences on fantasy designs may be expected, but one also finds a surprising amoung of fantastic imagery within the historical costumes.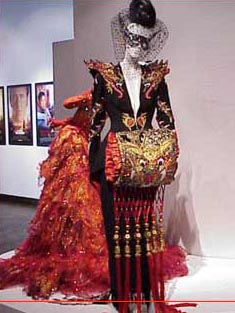 Five of Cruella de Vil's wild ensembles from 102 Dalmations catch the eye as soon as one enters the exhibit rooms. Of course there's the requisite black and white ensemble, relatively understated except for a huge wide hat and cowl. Designer Anthony Powell spared neither bead nor feather in creating some of the other costumes -- a slinky tiger print dress with pheasant trim and a frothy red gown of net and tulle, envisoning flames, lavishly decorated with sequins, beads and feathers, and crowned by an Elizabethan collar. My favorite, however, is a Chinese-inspired sheath embroidered with a dragon motif whose tail creates a long train. Pagoda-shaped epaulettes and a wonderfully beaded and be-tasseled muff complete the ensemble.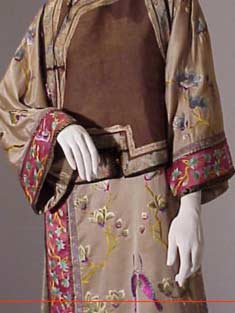 From across the room, the elegantly subtle creations by Tim Yip for Crouching Tiger, Hidden Dragon seem to view Cruella's costume with detached amusement. Complimenting director Ang Lee's fusion of East and West in his epic tale, the clothing worn by Crouching Tiger's wuxia warriors is both functional and ecocative. Yip's art and costume designs break from the traditions of Chinese martial arts films, toning down colors to establish a sense of space and movement. At the same time, the delicate embroidery, hand-painted silks, and rich brocades incorporating mythic symbols also bring the exotic world of ancient China to life. Four of the film's costumes -- all worn by the female lead actors -- are included in the exhibit.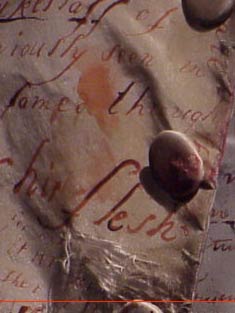 Moving halfway around the world, Quills is set in late 18th century France, where the Marquis de Sade has been incarcerated in a mental institution. Jacqueline West's designs help establish the period and the status of the film's main characters -- a laundress, a sympathetic priest, an influential doctor, and the writer himself. The showcase of the display is the outfit that de Sade -- deprived of ink and paper -- uses as his canvas, composing his latest story in blood on every inch of his clothing. Within the film, the scene evokes Peter Greenaway in its use of writing imagery; seen up close, the costume is a wonderful piece, the distressed silk looking like a period manuscript.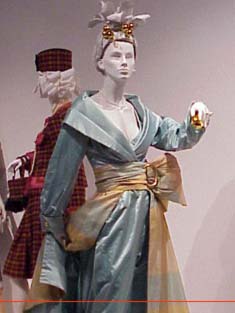 A somewhat less subtle approach is used by Rita Ryack to clothe the denizens of Whoville in How the Grinch Stole Christmas. It's Coco Chanel gone very, very wrong: pillbox hats, capri pants and shawl collars suggest early 1960s fashions, but the dresses are decorated with fruit and iced cookies, shoes either covered with fake fur or elongated with turned-up toes. Just looking at the green fake fur under the Grinch's terrycloth Santa suit makes you itch!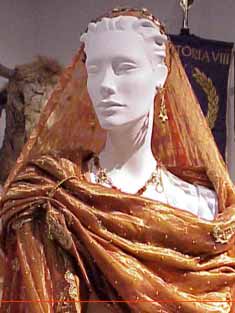 Last but certainly not least, a half-dozen costumes designed by Janty Yates for the Roman epic Gladiator also combine historical research with imaginative theatrical elements. Two of Lucilla's gowns on display feature beautifully embellished silk, satin, organza and chiffon, gracefully layered and draped; the accompanying period-inspired jewelry is exquisite. The Gladiator exhibit also features General Maximus' uniform worn in the Germania battle scenes, and the white armor (which is actually beige and designed to look like marble) worn by Emperor Commodus in his final confrontation with Maximus. Detailing on the men's costumes, especially the pictorial motifs found on various bits of gladitorial armor, is quite impressive.

Other 2000 films share the rest of the main gallery space, with a large selection of Revolutionary War-era costumes from The Patriot, and representative pieces from Chocolat, Erin Brockovich, Charlie's Angels, and All the Pretty Horses. (Sadly, FIDM was unable to obtain costumes from The House of Mirth as originally planned.) There are also some -- alas, too few -- pieces from The Cell, which features bizarre and original designs by Eiko Ishioka.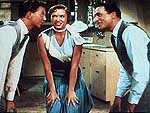 Taking advantage of the recently expanded exhibit space, FIDM's third gallery boasts a second exhibit: an impressive sampling from the Debbie Reynolds Hollywood Collection. Reynolds started purchasing costume and set pieces when MGM decided to sell their large warehouse inventory in 1970, and she now has one of the largest collections in the world. Negotiations are underway to find a new permanent home for the collection in Los Angeles. Meanwhile, visitors to FIDM can treat themsselves to a nostalgic return to the studio's great musicals -- Singin' in the Rain, Meet Me in St. Louis, Gigi, Hello, Dolly and The Unsinkable Molly Brown -- as well as costumes from 24 other Hollywood films from historical epics (Desiree, The Virgin Queen) to science fiction (Planet of the Apes). If you visit, don't forget to go up to the third floor display cases, which include one of the most astounding Reynolds pieces: an Adrian-designed silver bugle bead tailored suit with nautical motifs, worn by Eleanor Powell in Broadway Melody of 1940. (She not only wore this outfit, she danced in it!)

The 73rd Annual Academy Award for Costume Design (along with those other minor kudos for best picture, acting, and the like ...) will be presented on Sunday, March 25th. Steve Martin hosts the event, which starts at 5:00 pm Pacific, for the first time this year. So you weren't invited to the Oscars? Invite some friends and watch the festivities on ABC; with luck at least some of the nominees or presenters will have forgotten any sense of taste or style -- and the scrutiny of Joan Rivers. The FIDM exhibit runs through May 4th, and is well worth the plane fare to Los Angeles; check the institute's web site for details on exhibit hours and directions. An on-line photo gallery of the exhibit is also available.


Links



Fashion Institute of Design and Merchandising

Official Debbie Reynolds Web Site (more info on Hollywood Collection)


Official Oscar Awards web site
---
Return to Celluloid Wrappers